I thought I would share a look with you I have created all around a piece of furniture from EZ Living furniture store that is on sale with a €500 discount….. "WOWZER" Priced now at €449. This really retro but contemporary piece of furniture I have chosen to go mid century with those modern twists in home accessories and choosing contemporary pieces of wall art to pull it all together.
---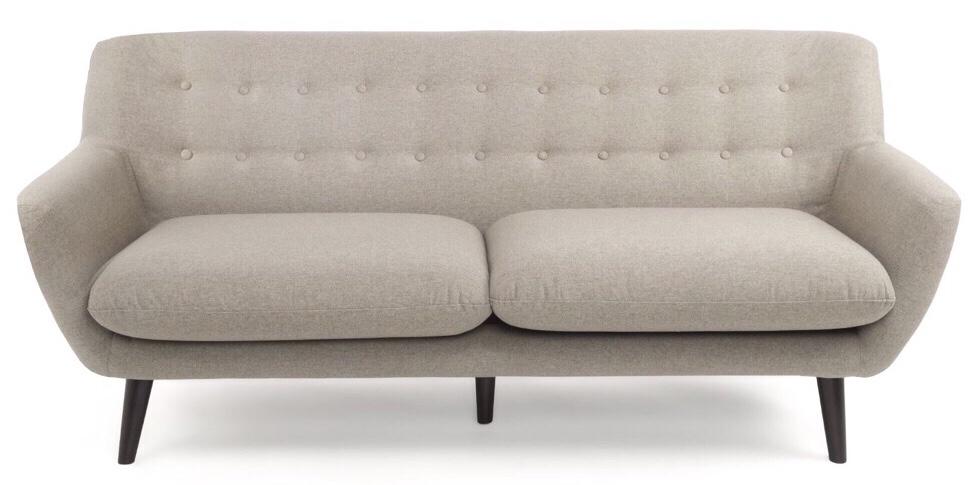 Hampton 3 Seater Sofa from EZ Living
---
With 2018 trending shades being those really rich deep colours, I have chosen to dress this room with just that.
I have put together a quick look for you on a mood board I created on how you may like to style a living room using this couch – for anyone who may be a little unsure of how visually this may look all together. As you can see from the image below the feature wall colour I have chosen to use is by Farrow and Ball- Down Pipe.Click here
It is described as a great back drop for any art displayed against it and this colour will give me the dramatic effect I wish to have with my chosen pieces of art. Because of the slate colour chosen for the feature wall, I have decided to incorporate a lot of those gorgeous out door greens and golds to add that touch of luxury to my finished look.
Because the Hampton 3 seater sofa has those beautiful rounded off edges, I incorporated that in some of my choices of additional furniture.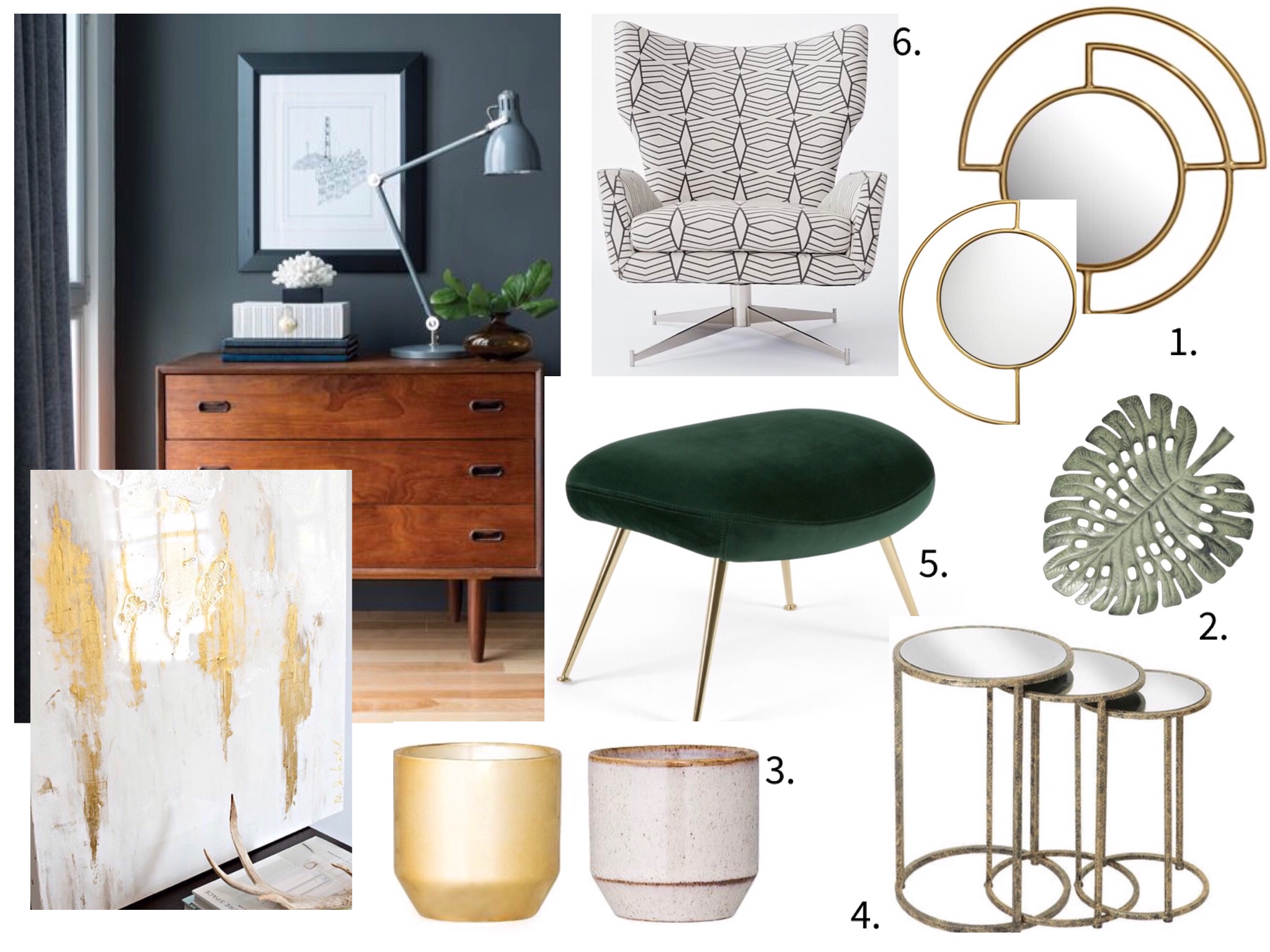 1. H&M rounded mirrors €19.99 – €22.99 each – I love the really unique frames on these beautiful mirrors I have chosen for this look they display that retro feel we are trying to creat in this room. Mirror 1. Mirror 2
2. Leaf shaped metal tray H&M €22.99 – bringing in those outdoor colours and style this little accessory is perfect for this room on a side table.Click here
3. These beautiful stoneware tea light holders come in two colour choices muted neutral or shiny gold. Both from article. Priced at €6.99Click here
4. The nest of tables on sale in Arnotts from €149.95 to €119.96. I chose these for the distressed effect on the frame which again will pull in those natural outdoor colours we really want but also those luxury finishes. Click here
5. The velvet green footstool from Made.com reduced from £229 to £179 adding in some textures and again those outdoor colours. Click here
6.The diamond hemming swivel armchair from West Elm and is reduced from $699 to $349.99. I couldn't resist a retro design and this defiantly delivers just that. They are offering on full price items a 15% discount when you sing up online. Click here
---
The mid century cabinets
These mid century cabinets are just beautiful and west elms have done an amazing job by adding those luxury touches with gold frames additions and handles etc.. they have a huge selection of other similar pieces of furniture in a variety of prices so feel free to Click here to see what they have to suit your budget.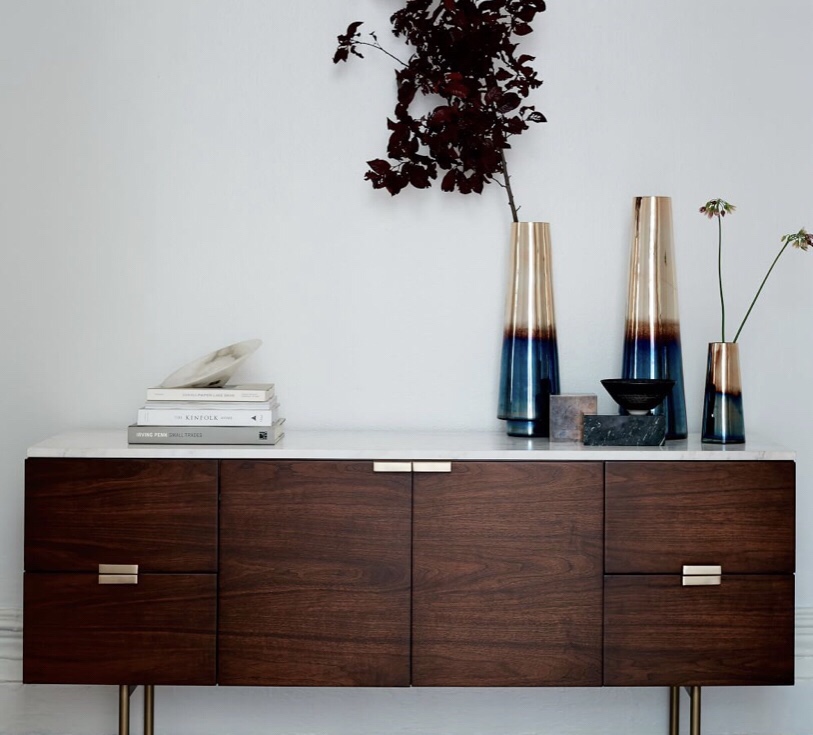 West Elm – Delphine buffet Click here for pricing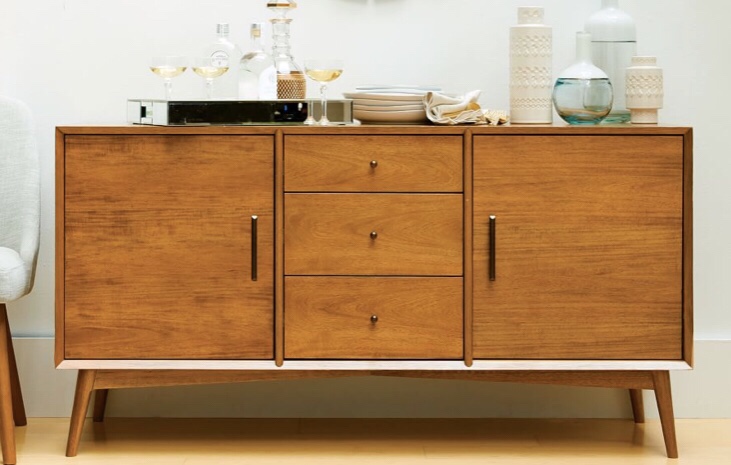 West Elm – mid century buffet Click here for pricing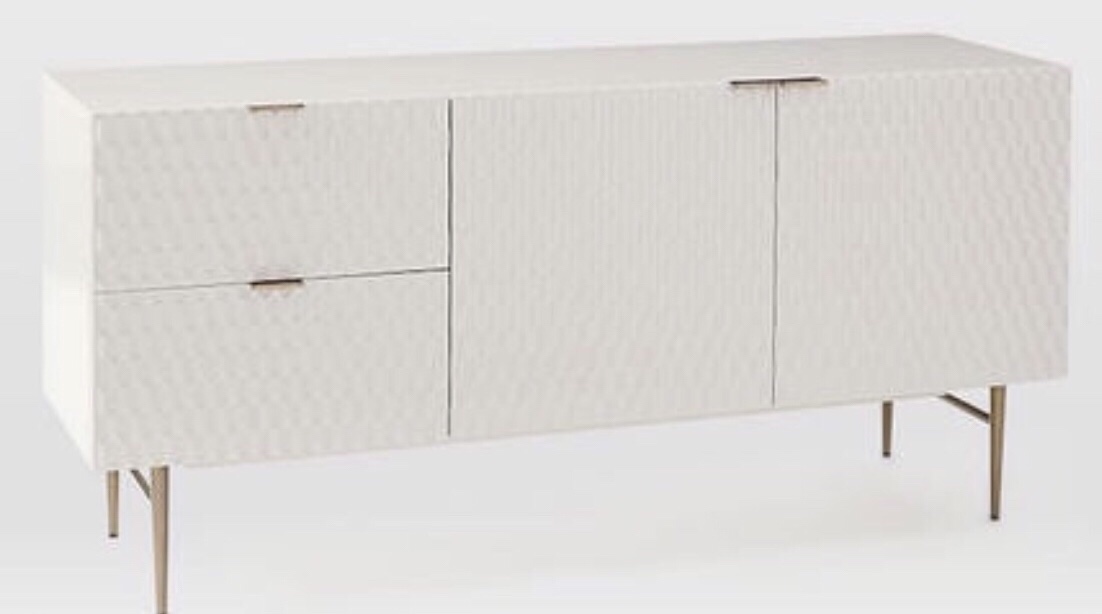 Arnotts dublin – West Elm the Audrey dining buffet Click here for pricing
---
Lighting
I have gone for that mid century with a modern twist for ceiling lighting for this look – but a very specific look. If you are unsure of free standing lamp or style of table lamp to put with this look please don't hesitate to contact me on our facebook page (LuvLuxe.ie) and I would be happy assist you with some suggestions.
The first item is from Debenhams by the Jasper Conran collection. Priced at €270. I really love this piece and the quality is excellent. Click here
Our second item is from Arnotts and by West Elm. The glass on the piece is frosted and would be more the traditional style glass used for this era. Again, I love this piece! It's very high quality and should you choose to relocate this piece to the dining room at a later date it would be perfect above a dining table.Click here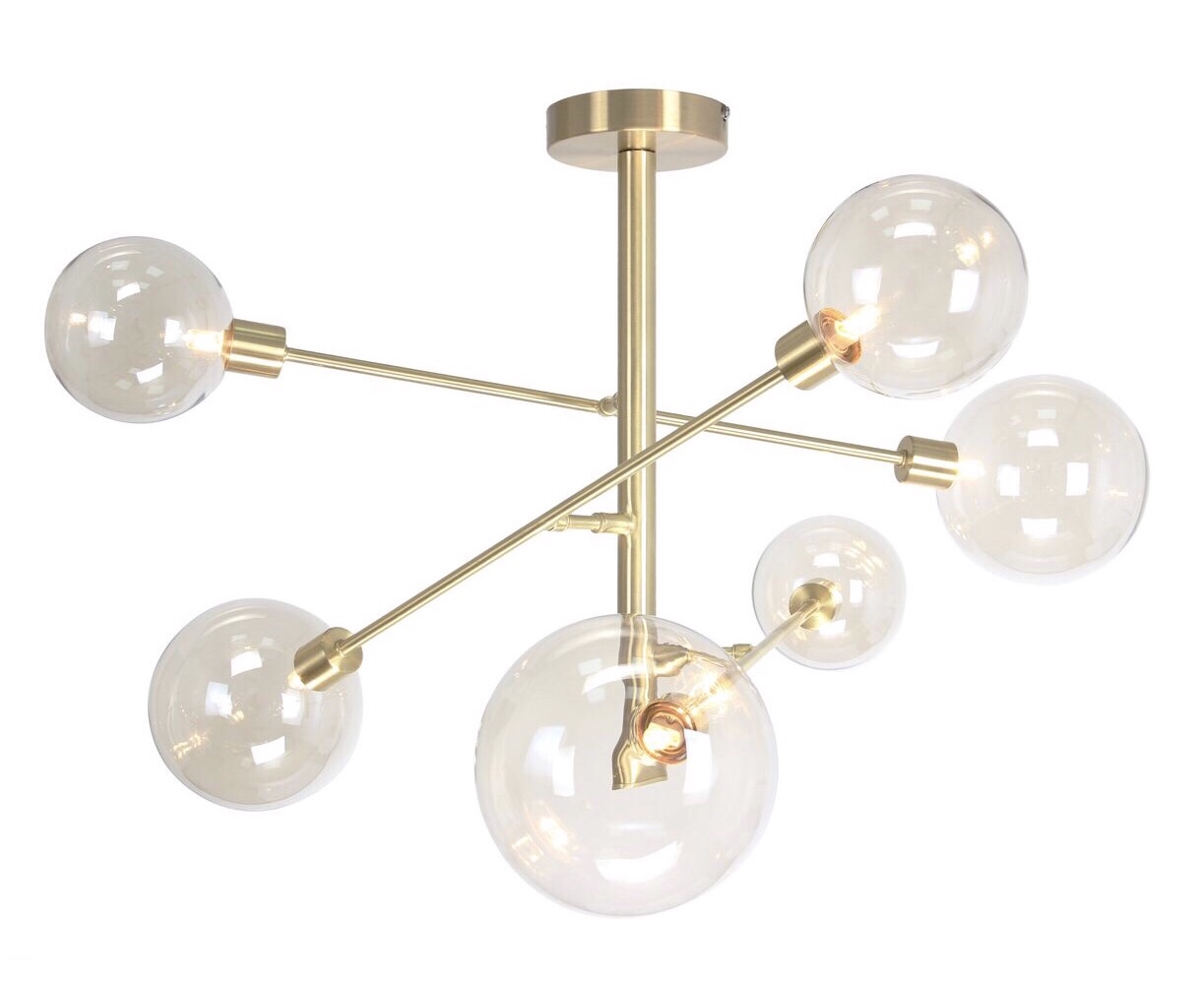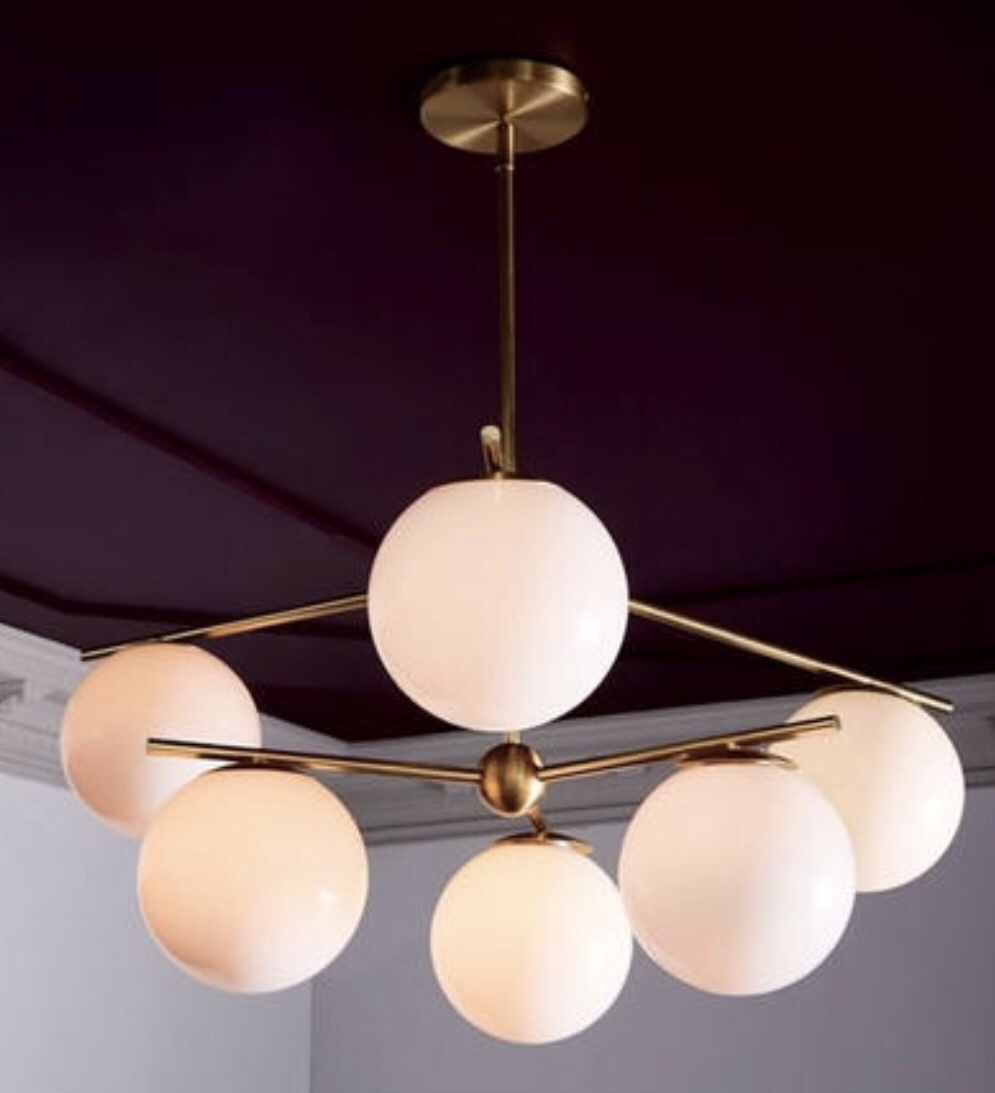 ---
Art
We are moving on to our pieces of art. I don't know about you, but I certainly love an oversized piece of art. And it would be amazing to have some original pieces of work to showcase in your home, these make for great focal points in any room especially if you don't have a fireplace and you don't want your focal point to be the television. But most importantly these pieces can really change the mood of a room and really give that final finished look.
Today's pieces I chose from Artfinder.com Click here They display original pieces of work so unfortunately you have to go by the rule "See, Like, Buy" because once its gone its gone. My recommendations for this particular look would be to go with something with a white background and keep it bright.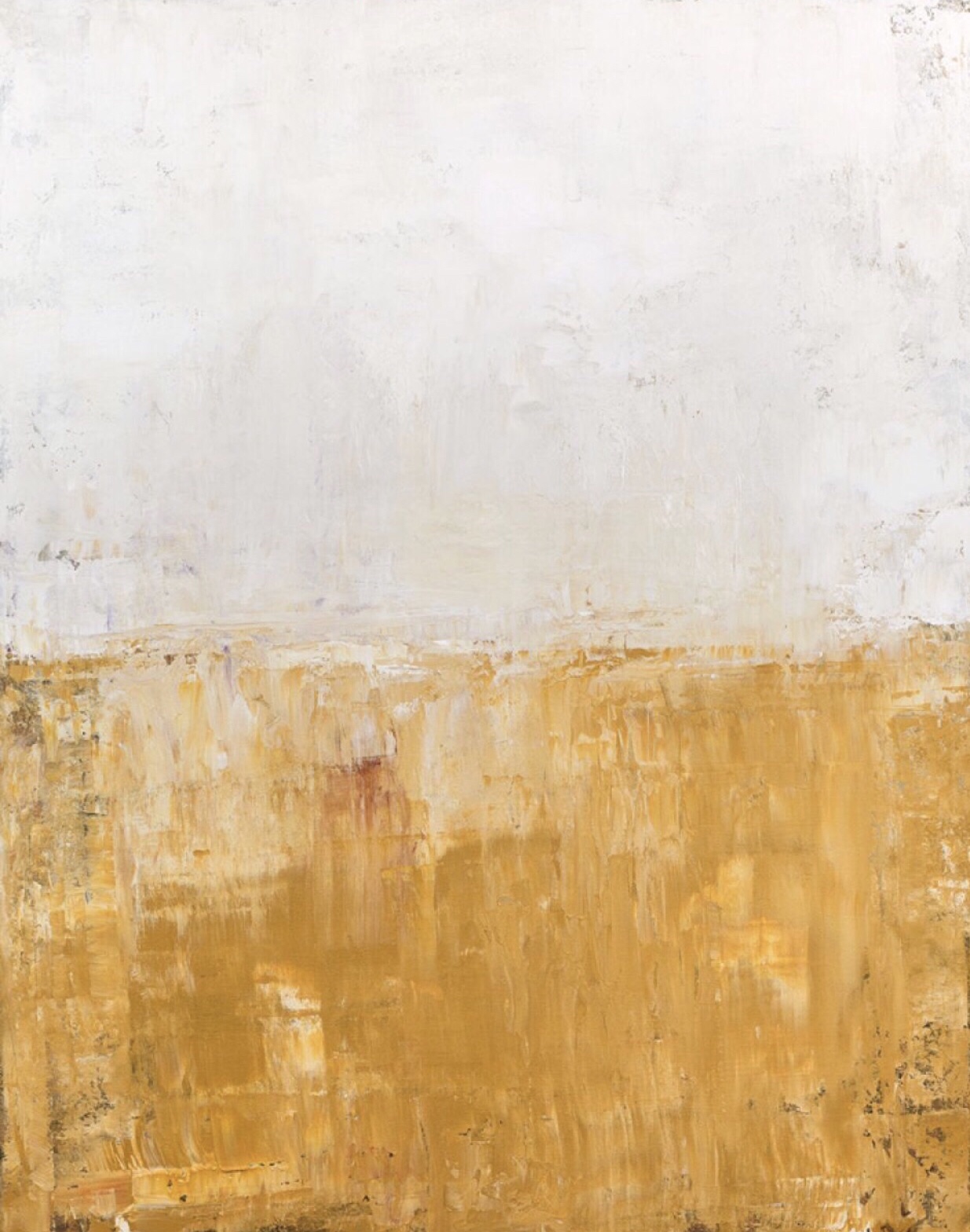 Gold field by Don BishopThis piece is acrylic painting on canvas. Priced at €490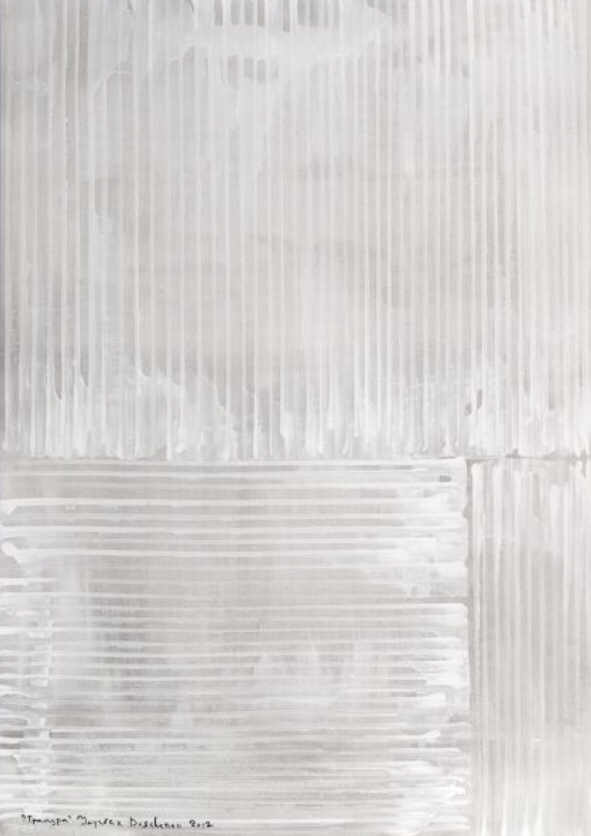 Abstract painting – Tripura 2016This piece is acrylic painting by Ulugbek Doschanov and priced at €120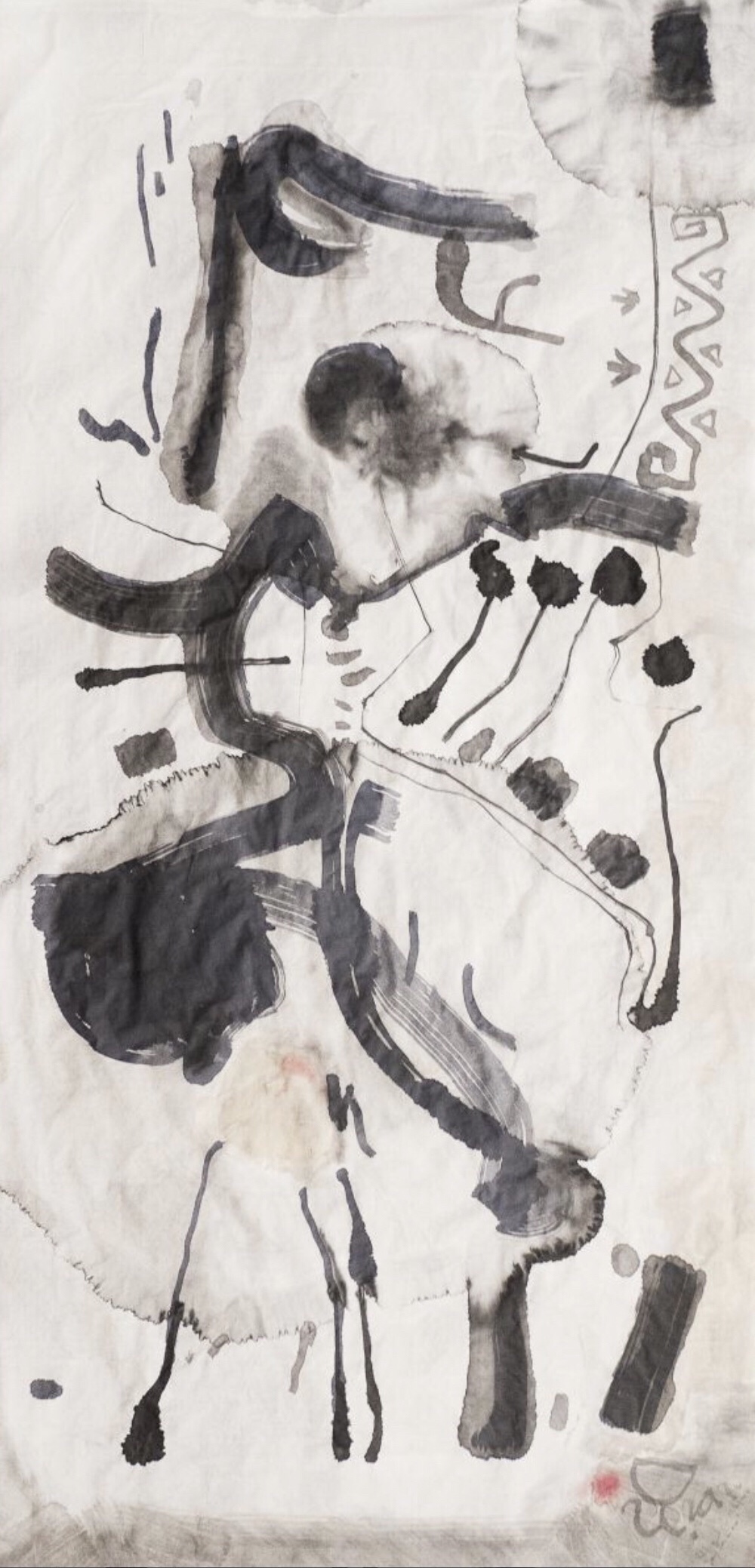 Labeled – From you to meThere is no artist name with this very large abstract painting. But it will defiantly give you a great impact against that painted wall. Reduced now to €162
I hope you have enjoyed todays look & you have found it helpful. Till next time.
Love LuvLuxe x