I decided to write up a piece on this little project we did for a small box bedroom that got some positive feedback.
Some had a few questions on how to upcycle wooden furniture, paint choices and what the best brands we found to use were etc …
But before we start, the first bit of advice I would give anyone decorating any room in their home, before you even think about picking up a paint brush, is to do their research.
Before images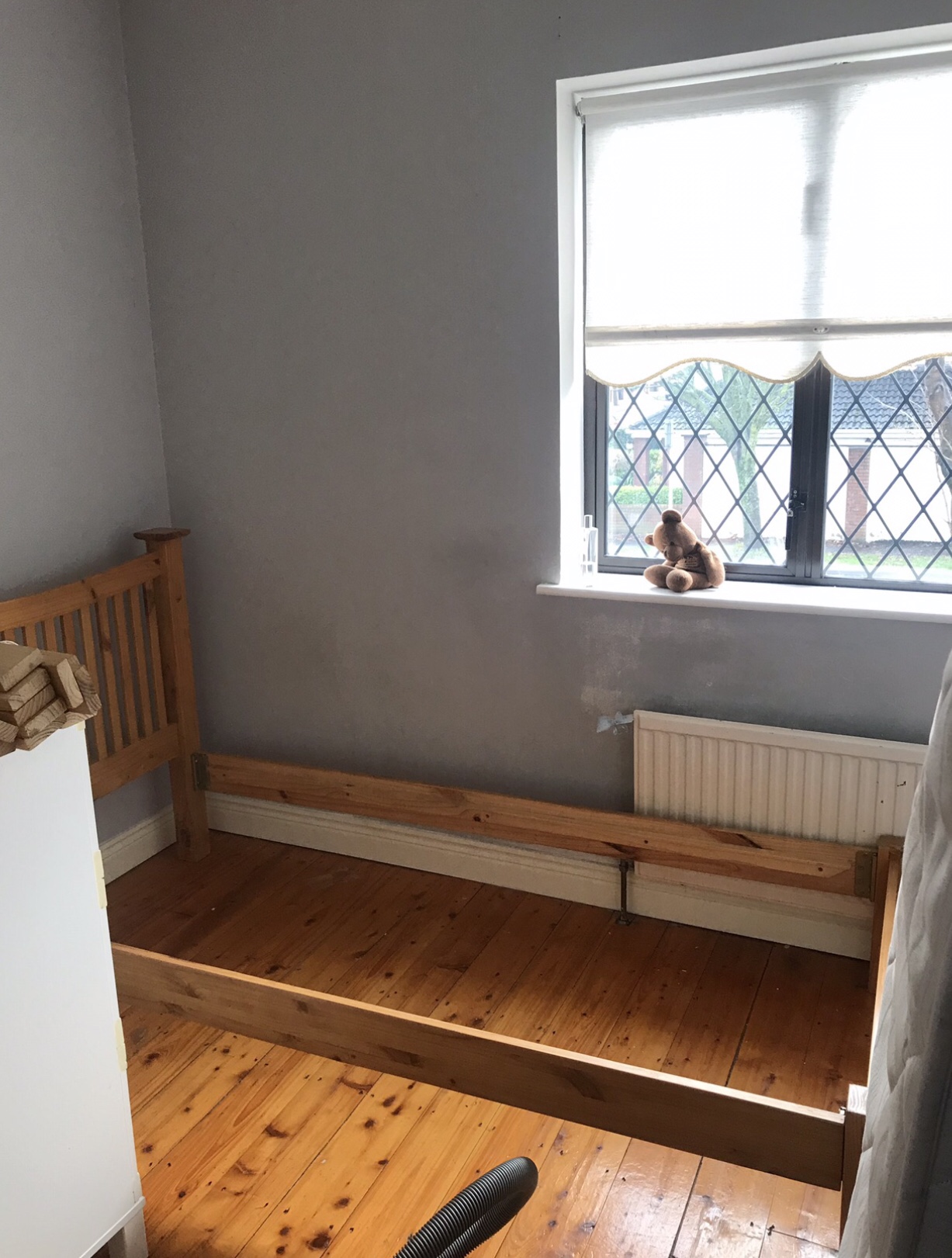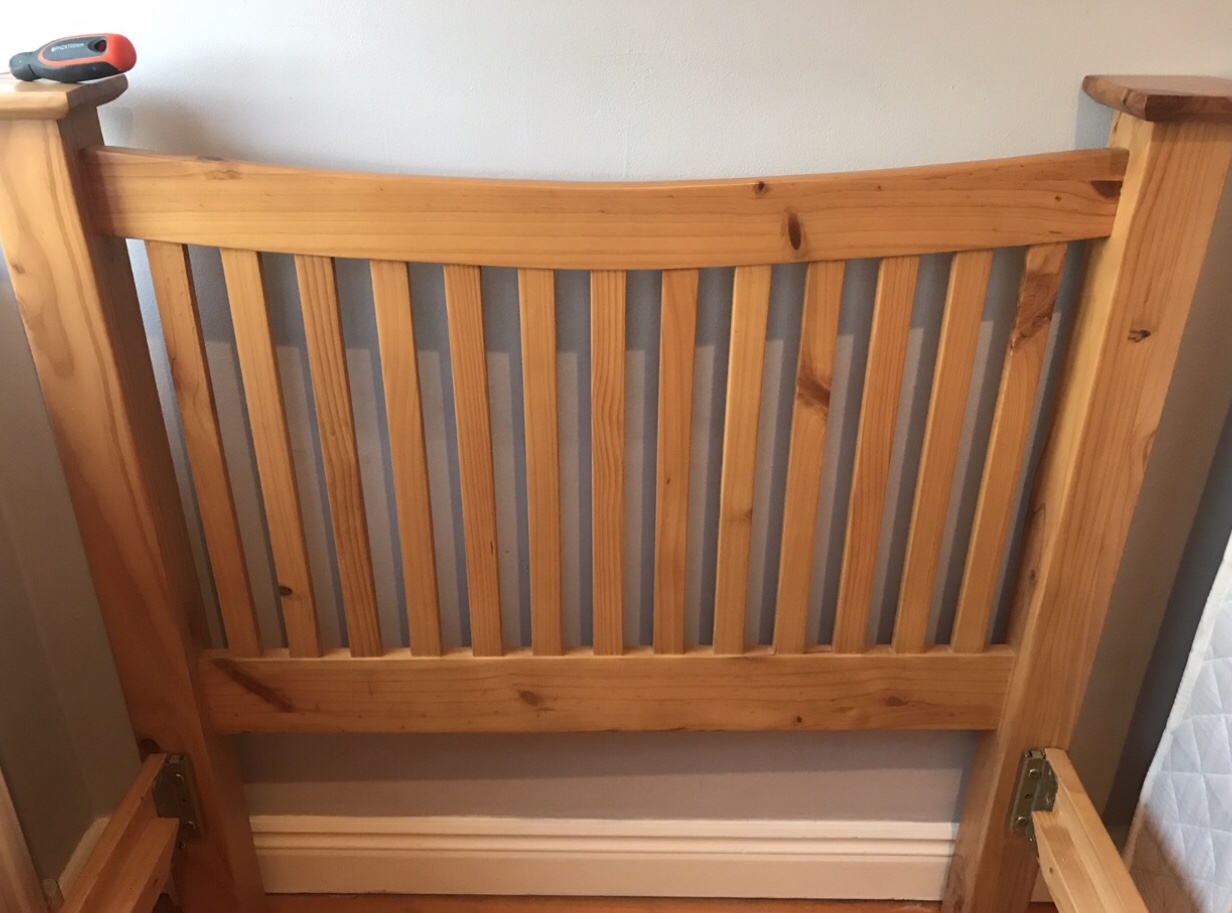 Often a lot of people can get a little overwhelmed because of the endless choices we have available to us on instagram and in stores for styles and furniture. When we start shopping without a clear vision of what your trying to achieve you can be left with a mixture of miscellaneous items that you like but have no relevance to the room you are decorating. And now you have just spent your entire budget on who even knows what LOL.
So to avoid that happening I would always recommend that you put a plan in place. Create a mood board of what you would love to achieve. This helps with going over your budget and gives you a clear vision of how the room will look once it's completed and to be sure that you will love the final result.
Note
You will find apps helpful with this using screenshots and placing the items along side each other. This will allow you to be sure that your colour palettes will all work when finally put together.
I used Adobe comp app to show you how this can be achieved.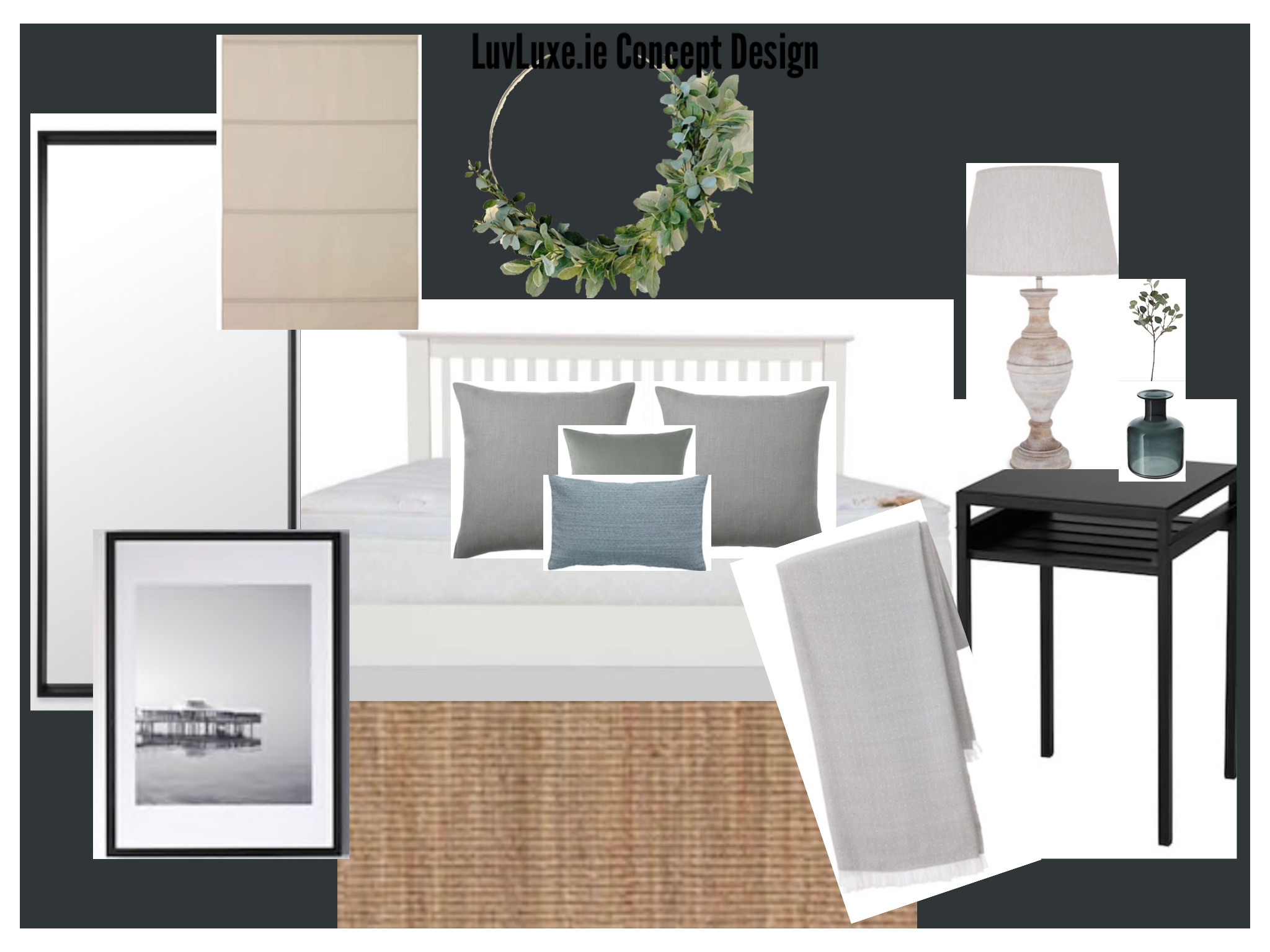 Before you paint.
Prep your room. Make sure all surfaces are wiped clean and are dry. Always start with sanding if you are painting skirtings, window sills anything that is wooden that you plan on painting.
Sanding causes a lot of dust so you don't want it mixing in with your newly painted space, it will really effect the finish. I recommend a medium grit sand paper for breaking the seal on the existing paint. If you need more heavy duty sanding you can go for a higher grade.
When finished sanding make sure to remove all dust with a vacuum and wipe all surfaces with a damp cloth and allow to dry.
Painting the room.
When we set out to paint this room I had a Farrow And Ball paint colour chosen, but due to budget we went for a similar colour from Dulux that worked out at half the price. And thankfully it was a very close match to our original choice.
Farrow and Ball – Down Pipe €63
Dulux paint – Night Jewels 2 €32
Tools and supplies you will need.
Paint brushes
Good paint brushes is a great investment. If you buy cheap you will most definitely buy twice.
Painting with poor brushes can be very difficult and will most definitely test your patience if you keep loosing hair with every stroke and if your like me you will spend the majority of your time cursing at the skirting board trying to pick them all off one at a time:) LoL ..So lesson learnt.
We recommend Harris brushes 1 1\2 for skirting boards and smaller panels on the bed and for any other pieces of furniture you may want to paint this is a great size.
2 inch for cutting in around the edges of your walls and ceilings etc.
It is also worth investing in good rollers that will give you a smooth surface with your wall paint.
Now to paint.
If you need to prime any of your wooden furniture I advise using Dulux undercoat. It will have your whites gleaming with no other colours seeping through. This is always advised when painting on raw wood. Sometimes it's not necessary with skirting boards to prime if you just want to freshen your existing paint, you can go straight to your satin finish instead. We recommend sticking with Dulux for this and we advise a satin finish always.
In our experience gloss finish paint turns very yellow in a short period of time and in the areas where there is less natural light it turns completely yellow within a matter of weeks.
When painting on raw wood you will need 2 coats of undercoat and 2 coats of satin finish (if needed). I recommend using a small roller for any flat surfaces and your 1 1/2inch Harris brush for in between those hard to reach places.
Painting the walls.
Always start with the ceiling paint, we gave this room two good coats of paint to ensure we covered all areas and we used Dulux – Brilliant White.
Note
10Ltr container is great value for money, you will always need white paint for tipping up in areas of the home.
Painting the walls was very straight forward, we used the Dulux- Night Jewels 2 with a large roller and extendable lever. This paint is so good in coverage you could have nearly gotten away with one coat of paint on the walls, but we did a second coat to ensure all areas were completely covered.
Cutting in is always challenging with dark paints. We recommend for anyone not confident in cutting in free hand to use and cutting in angles guard. This will help give you that crisp clean line.
Angle Guard – can be gotten in most hardware stores and come in a variety of shapes and sizes.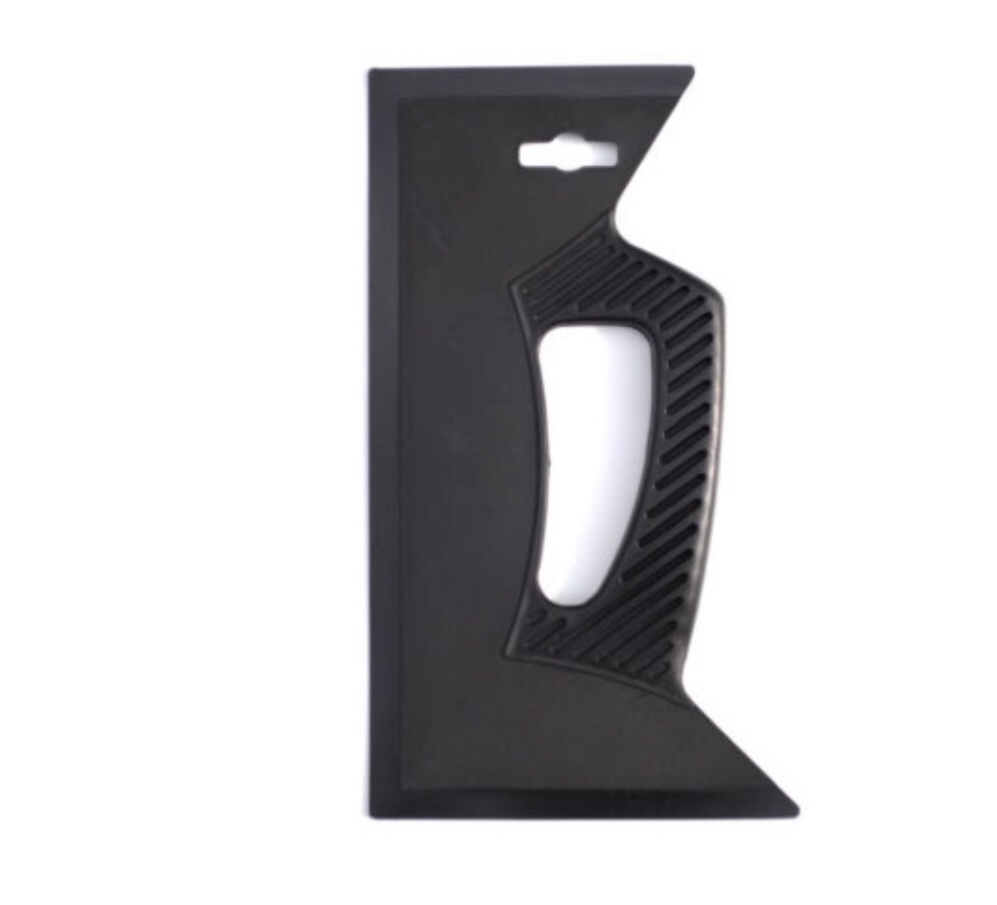 This is a perfect tool for anyone who may suffer with shaky hands or for anyone with a fear of heights, means less time on the ladder.
That is the extent of our lesson today guys. I hope this is of help to anyone who may want to do a DIY job in the home, Upcycling or for any general painting. This little budget friendly project still has a few little finishing touches yet to be added. Follow us on Facebook and Instagram to see any updated imagery and furniture and home accessories sales.
I will include the list of furniture items and links where possible for this room below.
After images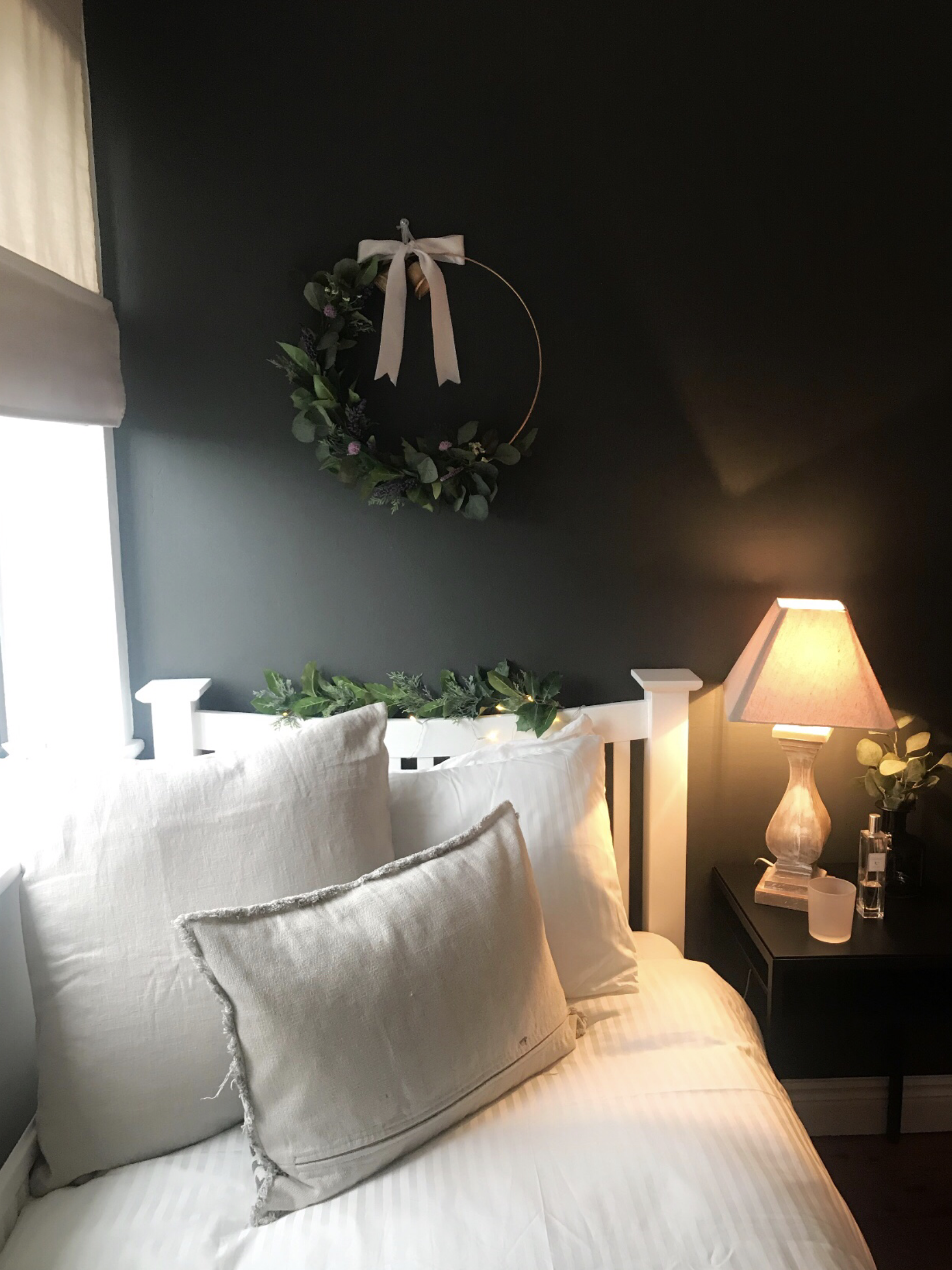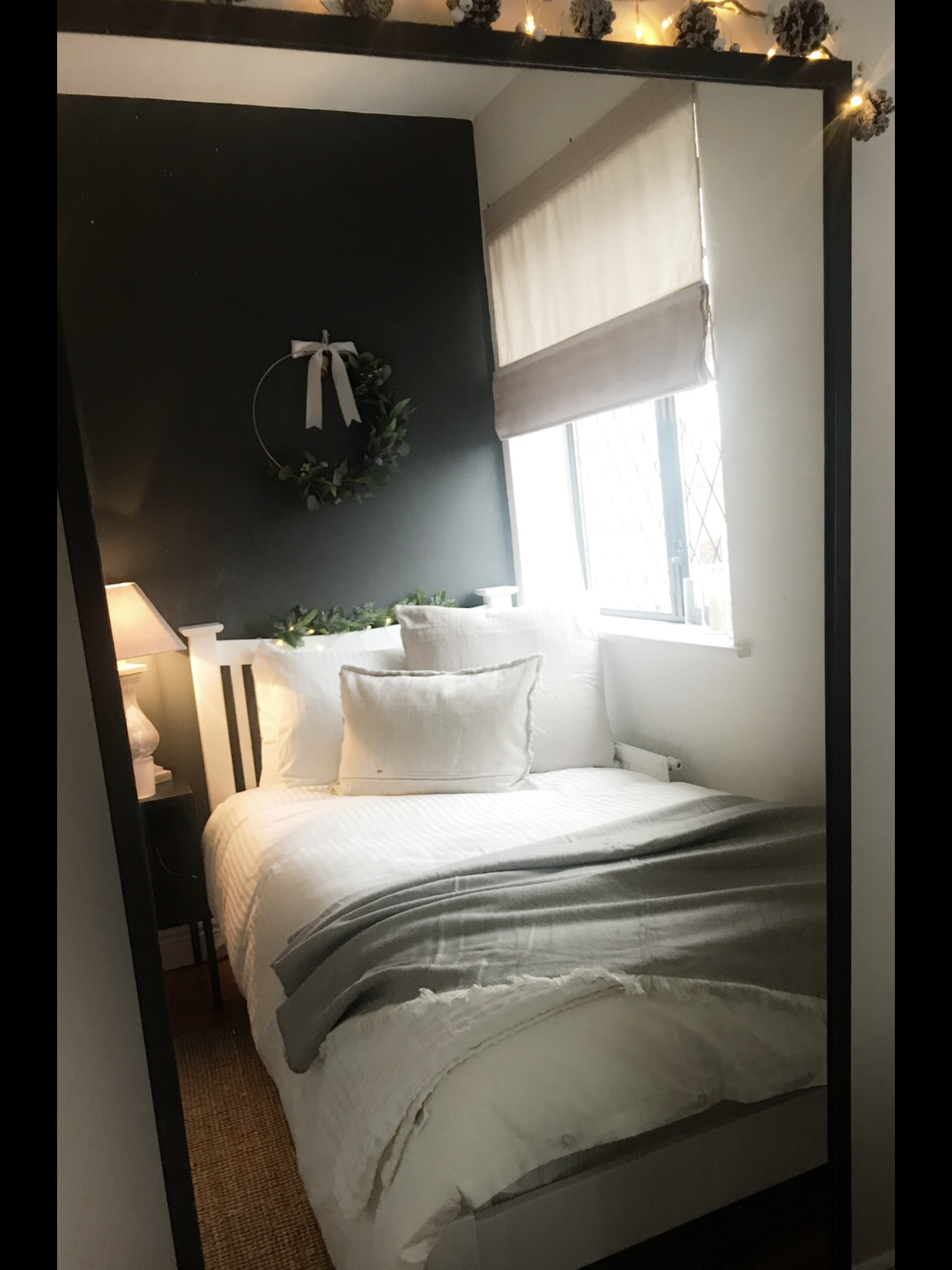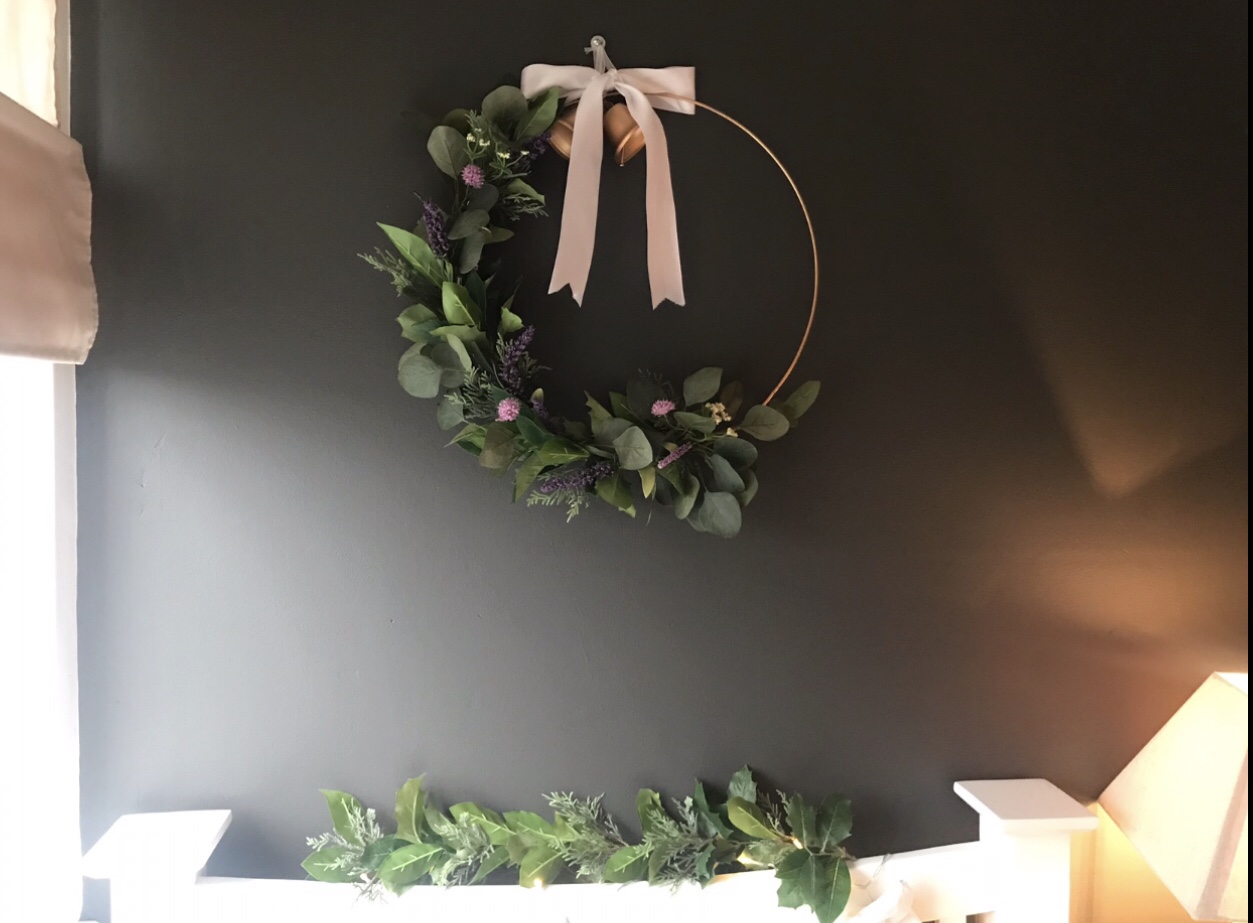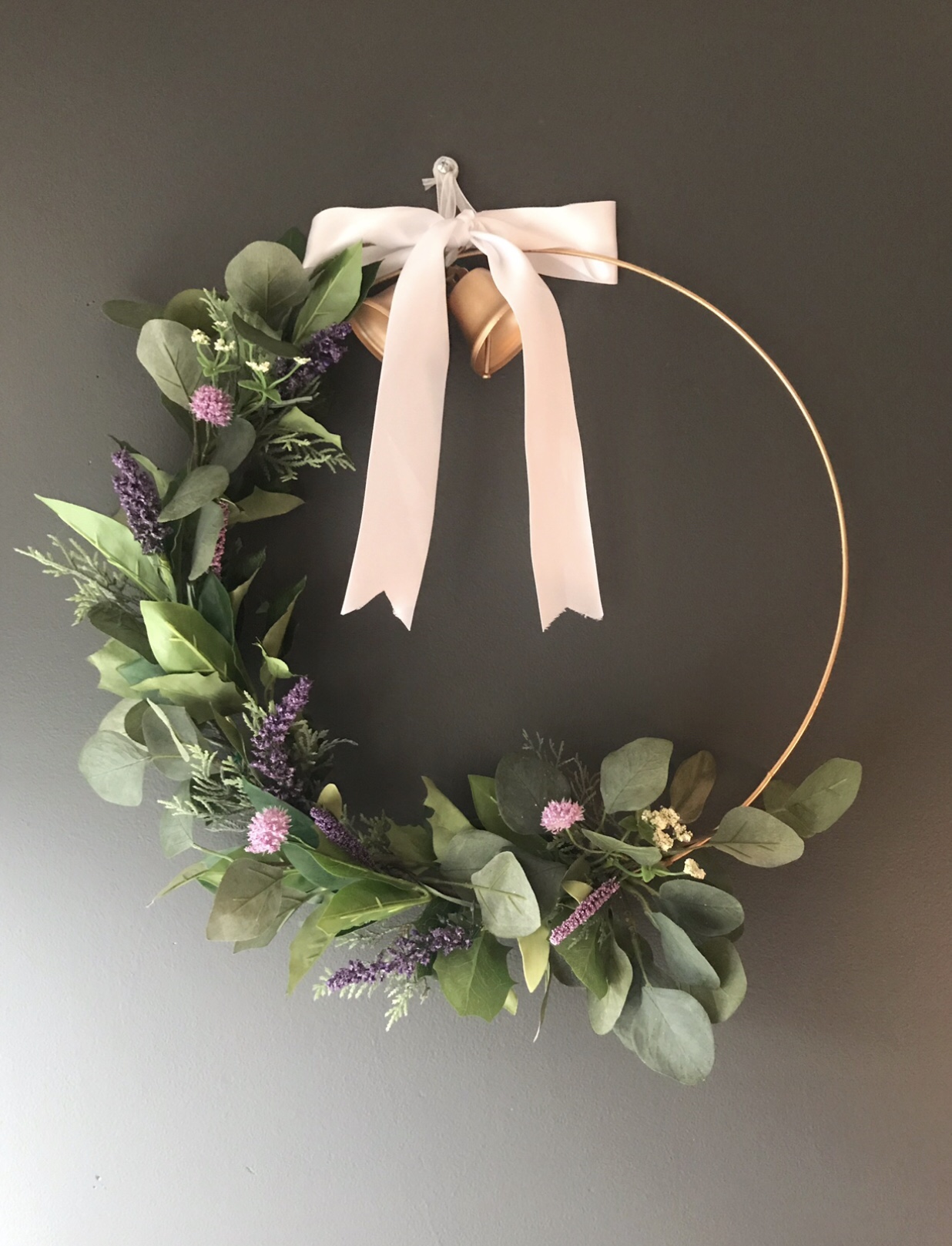 Furniture and accessories
Bed frame was purchased in Ez Living furniture a few years ago. The beauty of buying wooden pieces is you can always change it up with different coloured paints over time.Ez living furniture store do have this bed in stock already painted, link below.
https://www.ezlivingfurniture.ie/bedroom/beds-bedframes/single-3-ft-white-pine-bed-grame-malmo.html
The table lamp is The Range. We went for the white washed woodhttps://www.therange.co.uk/lighting/table-lamps/table-lamps/wooden-square-urn-table-lamp#162612
Side table is Ikea we chose metal to add more variety of materialshttps://www.ikea.com/ie/en/products/tables/coffee-side-tables/nyboda-side-table-w-reversible-table-top-black-beige-art-20342644/
Vase is Ikea https://www.ikea.com/ie/en/products/decoration/vases-bowls/pepparkorn-vase-grey-art-00392654/
Eucalyptus is Ikeahttps://www.ikea.com/ie/en/products/decoration/plants-pots-stands/smycka-artificial-leaf-eucalyptus-green-art-80335773/
Rug is Ikeahttps://www.ikea.com/ie/en/products/textiles-rugs/rugs/lohals-rug-flatwoven-natural-art-20307481/
Bedsheets is ikea https://www.ikea.com/ie/en/products/textiles-rugs/bedlinen/nattjasmin-quilt-cover-and-2-pillowcases-white-art-30337166/
Cushion is ikea and Meadows and Byrne
https://www.ikea.com/ie/en/products/textiles-rugs/covers/ursula-cushion-cover-light-beige-art-60395838/
Wreath is ikea and we altered it with eucalyptus & stems of lavender. A single gold ring will work and attach with garden wire.
Cylinder vases are Ikea https://www.ikea.com/ie/en/products/decoration/vases-bowls/cylinder-vase-set-of-3-clear-glass-art-60175092/
Large black framed mirror is ikea https://www.ikea.com/ie/en/products/decoration/mirrors/nissedal-mirror-black-art-70320319/
Throw blanket from ikea https://www.ikea.com/ie/en/products/textiles-rugs/blankets-throws/ingunn-throw-grey-art-00377026/
Picture frame ikea https://www.ikea.com/ie/en/products/decoration/frames-pictures/lomviken-frame-black-art-30286770/